About Terre Rouge & Easton Wines
---
We were Green before Green was Green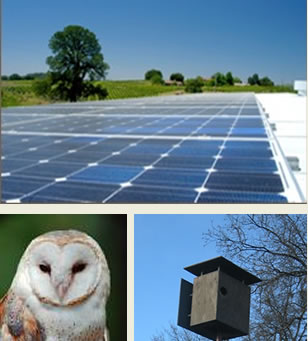 At Terre Rouge and Easton we strive to manage our business and vineyards with as little impact on the environment as possible. Here are some interesting and fun facts about what we do.
1. The winery and tasting room facilities are solar powered. The sun provides about 90% of our needed electrical power to run pumps, press, cooling units and to keep the wine cellar and our customers happy on hot summer days. On sunny days, our PG&E meter runs backwards!
2. All the grape waste (pomace) during harvest is spread onto the zinfandel vineyard at the winery.
3. Our vineyards are farmed sustainably. We mow, we disc, we French plow, we don't use chemicals.
To keep the rodent population in check, we have Barn Owls housed in special pole boxes. We also have Bart, the resident cat.
4. In the winter we spread fertilizer on our Fiddletown vineyards with a special mix from Grover Landscaping in Vernalis. The raw material for this compost comes from curbside green waste containers in Berkeley, San Francisco, Amador County, Sacramento County and more. If you live in these areas, your green waste could end up as compost in a Terre Rouge syrah vineyard.
5. Terre Rouge and Easton bottles are manufactured using at least 25% cullet, the name for ground up recycled glass.
6. All the bottles, cardboard and paper from the tasting room are recycled.
7. During wine and food events, Jane uses reusable china and glass, paper plates made from recycled materials and silverware made from plant starch.