May 1, 2015 |
Jane O'Riordan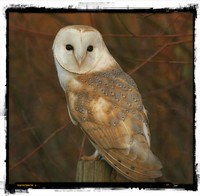 In late December, Bill and I came home at night and saw a pair of owls sitting in the oak tree above the south owl box to signal that the nesting season had begun. This was a little early, but so is everything this year and the owls must know when to start. I always wonder if the owls are offspring from previous years and come back to their home to mate or just show up and say, " this looks like a good box".
This box is right on the driveway, so it is always easy to monitor the progression. The female owl is in the box on the eggs, while the male hunts or sits in the tree and guards the box. This goes on for months. Most nights we would normally see the male in the tree, but this year I was worried. We rarely saw or heard the owls by that box. Did something happen to one or both parents? Is the cover crop too high and they prefer to hunt in another field?
I can now report that all is well and we have families in all four Fiddletown boxes, two at DTR Ranch Vineyard, and two at the Rice-MacDonald Vineyard. The early nesting owls by our driveway have three juveniles that have already left the box, and perhaps only one parent. I think this is why we did not see the adult owls much this winter, as the solo parent was doing all the nesting and hunting. Bill saw the juvies during hunting training this week, practicing their low swoops over the vineyard, then landing back on top of the box.
Our north box between the Viognier and Syrah has at least one in the box, and as of last night, one that has flown out to the oak trees. The babies hatch over a couple weeks, so we may have more later.
Last night I went over to the Rice-MacDonald Vineyard to check on the boxes. As soon as I got there I heard loud screeching from the box above the Zinfandel, probably three owls almost ready to fly. The box by the pump house was very quiet, but after waiting a few minutes I heard small screeches from babies within. As I approached the box, an adult owl in a nearby tree screeched very loud, warning me away. As I stood there near dark and looked out over the Viognier, a small sliver of a moon hung in the western sky. Two adult owls flew across the vineyard in unison, making their quiet hovering whap-whap-whap-whap sounds, looking for food to feed their hungry brood.
The Fiddletown Air Force is alive and well and doing their job to keep our vineyards organic.