TERRE ROUGE and EASTON Wines is located in California on the West Slope of the Sierra Nevada in Amador County's Shenandoah Valley. An artisan winery established in 1986 by winemaker Bill Easton and Jane O'Riordan, we make 30 different wines, most of them very small lots of 100-400 cases.

 Look for our wines in retail stores and restaurants around the country or visit us in beautiful Amador County.
GRAPEHEADS CLUB is a great way to sample each of our offerings. We ship 4 bottles, threes times a year in Fall, Winter and Spring. Many of these wines are special 100 case lots bottled just for the club. Grapeheads receive many other benefits as well.
FALL IS HERE, GRAPES ARE IN, FIRST RAIN, TIME TO DRINK ZIN!
GRIS GRIS, Tasting Room Cat
Taken by Krista Glavich-England,
DTR Office Manager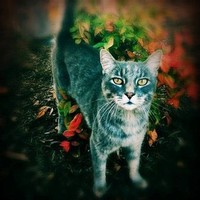 Grapes are almost all in!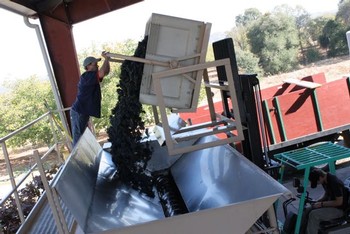 Long days for the crew makes them hungry. See what Jane cooked up for them at the Blog post below.
BLOG!
Check out Jane's Harvest Gumbo at the Terre Rouge / Easton BLOG!