TERRE ROUGE and EASTON Wines is located in California on the West Slope of the Sierra Nevada in Amador County's Shenandoah Valley. An artisan winery established in 1986 by winemaker Bill Easton and Jane O'Riordan, we make 30 different wines, most of them very small lots of 100-400 cases.

 Look for our wines in retail stores and restaurants around the country or visit us in beautiful Amador County.
GRAPEHEADS CLUB is a great way to sample each of our offerings. We ship 4 bottles, threes times a year in Fall, Winter and Spring. Many of these wines are special 100 case lots bottled just for the club. Grapeheads receive many other benefits as well.

Amador wine region and our own Bill Easton featured in the Wine Spectator
Yoshi at Vintage Inn, Tokyo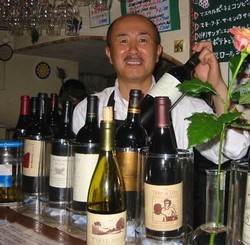 Did you know that you can find our wines in
Japan, Quebec, Ontario, Alberta, England,
Switzerland, and fine restaurants and retailers
all over the United States. Send us your photos!
BLOG!
Like owls? Interested in organic farming? Check out Jane's inaugural post in the new Terre Rouge / Easton BLOG!