TERRE ROUGE and EASTON Wines is located in California on the West Slope of the Sierra Nevada in Amador County's Shenandoah Valley. We are an artisan winery established in 1986 by winemaker Bill Easton and Jane O'Riordan. We make 30 different wines, most of them very small lots of 100-400 cases.

 Look for our wines in retail stores and restaurants around the country or visit us in beautiful Amador County.
GRAPEHEADS WINE CLUB is a great way to sample each of our offerings. We ship 4 bottles, threes times a year in Fall, Winter and Spring. Many of these wines are special 100 case lots bottled just for the club. Grapeheads receive many other benefits as well.

Amador wine region and our own Bill Easton featured in the Wine Spectator
Happy Holidays!
We are offering 30% off shipping on orders of a case or more.

Enter SANTA as the coupon code at check out.

Offer good through December 31st.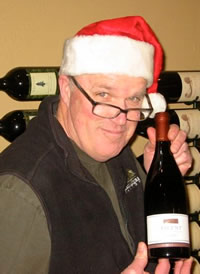 Doug Bellamy
Tasting Room Manager