Events at the Winery:
February 18-19
11 to 4
Super Zinster Weekend
This is our annual event featuring the entire line up of Easton Zinfandels. We will taste five different Amador County Zins from different vineyard sites in 750 and magnum format as well as the Easton Sauvignon Blanc. Enjoy with our olive tapenade.
March 4-5
11 to 4
Behind the Cellar Door
Join all Amador Vintners Association wineries for a weekend of seminars, new release wines, great food and cellar activities.
At Terre Rouge we will have a retrospective tasting of our Sentinel Oak Vineyard Syrah.
Tickets: amadorwine.com
April 8-9
11 to 4
Everybody Must Get Rhôned
This is the Terre Rouge slogan and credo. Come taste our extensive lineup of Viognier, Roussanne, Mourvèdre, Syrah and Grenache from multiple Sierra Foothill vineyard sites. Bill Easton is one of the original Rhône Rangers and received their Lifetime Achievement Award in 2016.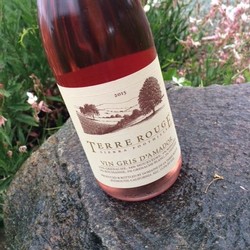 June 10-11
11 to 4
Vive le Rosé Weekend
We have been making a dry rosè at Terre Rouge since 1989. Come celebrate the release of our 2016 Vin Gris d'Amador, crafted from Rhône varietals.
On Sunday there will be a Provençal Feast on our patio. Details will be available soon for this great lunch. To get on our invite list call the Tasting Room: 209.245.4277