June 18, 2016 | Winemaking | Jane O'Riordan
Bill Easton Gets Lifetime Achievement Award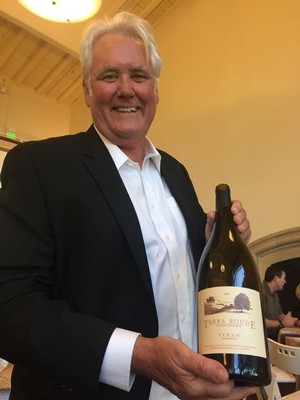 Last weekend in San Francisco, the Rhône Rangers gave Bill this coveted title. Bill is only the fourth to receive this great honor.
Bill jokingly calls this the award for "perserverance" by working with Rhône varietals since the mid 80's. Bill's love affair with these grapes goes back to the 70's when he had his wine shop, Solano Cellars, in Berkeley, CA. After traveling the Rhône, meeting winemakers and studying the climate, he decided that the Sierra Foothills was the best terroir for his project, Terre Rouge. The first vintage of Terre Rouge in 1987 was a blend of grenache, mourvedre and syrah that was simply called Terre Rouge Reserve Red. In the 80's and early 90's, Americans were very unaware of Rhône varietals and were confused by blends in general. There were only a few vineyards to work with, so Bill convinced friends to plant what he wanted, and we started our own estate vineyards in Fiddletown.
This is where the perserverance comes in and today we make almost 20 wines under the Terre Rouge label, blends and single varietal wines from specific vineyard sites up to 3200' in elevation.
Kudos to Bill.