September 25, 2015 | Cooking, Winemaking | Jane O'Riordan
Harvest Gumbo for the Crew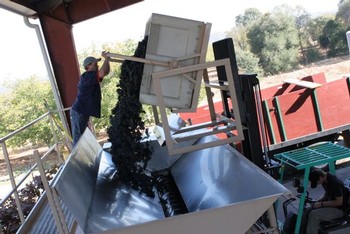 This week I made chicken and andouille sausage gumbo for the winery crew. This has become a tradition during harvest when the guys are working very long hours, especially this year as the harvest is compacted into fewer weeks. I make the gumbo the day before, then take it to the winery and set it up to heat in the morning. They eat bowls throughout the day to keep them going. By late afternoon there was only a small bit of sauce left, which our Aussie dog Ginger devoured mixed with her kibble. Everyone was happy.
The key to a good gumbo is the brown roux, a mix of flour and butter that you cook slowly until it turns the color of caramel. There is no rushing the roux - just stir, watch and smell the transformation. The roux will smell like toasted nuts and when you add the chopped celery, onion, and peppers to the pot, the aromas say "gumbo".
The recipe makes a large pot, enough for 8-10 people. This soup is best made ahead and reheated - it always tastes better. Great for a football game, Halloween party, or celebrating our first rain of the season.
Enjoy!