October 10, 2018 | Cooking | Jane O'Riordan
Pear Time in Fiddletown
Every day that Bill visits our Rice-MacDonald vineyard in Fiddletown, he passes "his" 100 year old pear tree, left from an old homestead now long gone. He has claimed it as his tree, and comes home daily with the pears that have fallen on the ground. Marred fruit he leaves for the local deer families and perhaps the bear that has been getting into the vineyard again this year.
These pears are not cultivated or tended to. The tree is not sprayed, treated for fire blight, pruned or watered. It survives on its own, with just the rain water nature provides, which some years is not much. We are not sure the variety. It looks like a Bartlett in shape but the coloring is more like a Bosc, and because it is fall ripening, I would lean towards the latter.
My kitchen counter is filling up with bowls of the these old fashioned pears that are a beautilful yellow, tinged with brown. The flesh is crisp and sweet, with a perfect pear flavor. The visually lovely ones we eat in salads or as part of a cheese plate. The not so perfect ones get cut up into cakes, chutneys and sauces. Try my Fiddletown Pear Cake and you will know that Fall has arrived. Crisp on the top and soft spiced-pear cake underneath, its a total comfort dessert.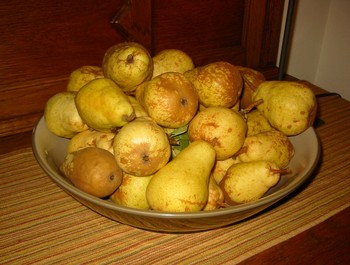 This year my Black Jack fig tree is ripening at the same time as the pears – a little late this year being early October. Last night we had the most delicious salad with the pears, figs, toasted hazelnuts, crumbled blue and mixed lettuces with a light walnut-balsamic vinaigrette.