July 7, 2015 | Cooking | Jane O'Riordan
Summer: Winter Deconstructed
In winter we simmer and cook to reduce flavors, concentrate the sauce, and keep it on the back burner until we are ready to eat. We braise and roast in the oven until we are intoxicated by the aromas.
In summer, we hate to heat up the kitchen. We spend our time on the patio, stoking the grill and drinking chilled rosé. Summer is about the freshness of produce in its pristine form, served as room temperature sides to the savory meats.
I love to deconstruct a winter recipe and make it fresher and simpler, showcasing the summer flavors. Here is one of my favorites, Grilled Vegetable Ratatouille. Squash, peppers, onions, and eggplant are grilled, sweated and tossed with basil, fresh tomato and olive oil to make the "sauce".
Head on over to my Recipes section and get the recipe under Salads and Sides.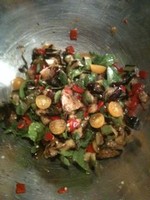 Small White and Green Bean Salad with deconstructed pesto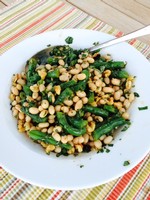 There is no recipe here. Just toss together in a bowl, let sit, taste again and serve at room temperature. Easy.
20 green beans, cut into 1" lengths, blanched until just tender
1 can small white beans, drained and rinsed
20 large basil leaves, minced fine
1-2 cloves garlic, pressed
½ cup toasted walnut pieces
¼ cup extra virgin olive oil
1 Tbl. balsamic vinegar
¼ cup freshly grated Parmesan
Salt and fresh ground pepper to taste