November 16, 2017 |
Bill Easton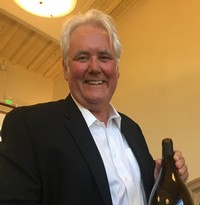 First let me comment about the 2011 vintage in general. It was a very cool vintage in the Sierra Nevada. Bud-break was late, the summer was cool, but without any the coastal weather and quality issues that handicapped certain wines made 100 to 150 miles west of us in Napa, Sonoma, and Mendocino counties. California as you all know is an enormous state with many microclimates and terroirs (generally 200 miles wide and almost 1,000 miles long in size). We didn't start picking Sauvignon Blanc until the middle of September and we finished picking all of our reds on November 17th. Fortunately, the weather was with us.
All of our Syrah was harvested between October 1st and November 10th. Our 2011 Syrahs are very European-styled and Steven Tanzer writing in his International Wine Cellar (Pre-Vinous) said, "I can't help thinking that the cool growing season that posed so many challenges for cabernet sauvignon has resulted in an unusually complex and scented set of wines at Terre Rouge."
As is our customs, we are only now releasing our 2011 Reserve Syrahs. The extra bottle age we give these wines is part of the élevage we feel these special wines merit. As we are Syrah specialists, it is our custom to release these new Syrah vintages every fall for the holiday season. They fit well at the fall and winter table with stews, steaks, and braised meats. They are perfectly drinkable and enjoyable now but they will certainly improve with additional bottle age.
If you happen to be in our area, be sure to come to our special Ascent Syrah tasting the day after Thanksgiving. It is always a fun event!
You can also check out our 2011 Syrahs here.