June 30, 2016 |
Jane O'Riordan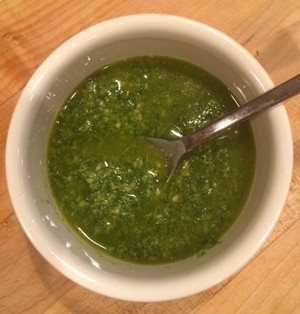 My love affair with pesto started in Nice in the 80's, where it is called pistou. Bill and I were traveling on a wine discovery trip for his shop in Berkeley and dined at a tiny, whole-in-the-wall bistro called La Meranda. The husband, Jean Giusti, hailed from Genoa whose cooking is similar to Nicoise fare, by proximity and history. His wife Christiane came from northern France where butter is king, which you will see in a bit plays a role in my pistou story.
The bistro is in the old part of Nice and is packed with diners every night, sitting on small stools, balancing menu chalkboards and glasses of wine. We ordered many dishes to share and the highlight was a simple pâtes au pistou, (pasta with pesto). The pasta was fresh from a shop in the Cours Saleya market area. The fragrant olive oil from Nice is mild and fruity, the best being Alziari. The basil is very sweet and bright green.
Guisti always made a show of the mixing of the pâtes and the pistou in a large bowl, blending gently with two forks, getting the person who ordered it to help. The finishing touch is a large spoonful of sweet cream butter, tossed together until the noodles are coated. Gasp! Then he makes you take a bite in front of the entire room before it is served into a bowl and you think that you have died and gone to heaven.
That is my touchstone pesto pasta. I have tried many times to recreate it here in California, coming close but not making it quite as good. The secret lies in three things: fruity fragrant olive oil, very young sweet basil, and fresh made pasta. You can add the butter or not. You can drizzle in a little cream if you wish, but let the pistou be the star, never mucking it up with other ingredients.
There are many recipes for pesto on the Internet and in your favorite cookbooks, both French and Italian. Just stick with my rules above for fruityt olive oil and sweet basil. Please see my note below about pine nuts. There are also some decent store bought ones, and there are some store bought ones that are pretty bad. When buying pre-prepared pesto, look at the ingredients. Don't buy ones with lots of cheese additives, gum, and other stabilizers. Buy one that looks like you made it, with plenty of olive oil. Most of the good ones I have found are in the refrigerated cases.
Now that you have your pesto here are 4 Things to Do With Pesto That Don't Require a Recipe.
1. This one is great for a quick appetizer, when friends pop over spontaneously.
Pesto with Cheese and Nuts
I have served cheese this way in our tasting room for years, and guests always think I am a genius. I'm not, but it is a good trick.
Chose your cheese: a wedge of brie, a log of goat cheese, or a block of cream cheese.
Place the cheese on a decorative plate or press the goat or cream cheese into a shallow bowl.
Spread a good amount of pesto on top, about ½" thick.
Chop up some pistachios, almonds, or walnuts and sprinkle on top.
Serve with crackers or baguette slices.
Option 2 : Add some slivered sun-dried tomatoes on top of the pesto.
2 & 3. These two are great for a warm night after work and fast to make. Pair up with something simple off the grill.
Green Beans with pesto and lemon
Cut off the ends of the green beans and rinse them well. Grab a pan wide enough to let the beans stretch out and about 3-4 inches deep. Fill the pan about 2 inches deep with water and bring to a boil. Place the beans in the water and simmer until just tender, about 8 minutes. Keep checking a bean so that you don't over cook them. Drain the beans in a colander. Let cool 5 minutes. Place the beans in a serving bowl. Toss with about 1 Tbl. pesto and the juice of ½ a lemon. Serve warm or at room temperature.
Salad of white beans, tomato and pesto
Take a can of great northern or cannellini beans, drain and rinse them. Place in a mixing bowl.
Take a large, sweet tomato and cut it into ½ inch dice. Add to the beans.
Take a handful of basil leaves and slice them across the leaves into narrow ribbons. Add to bowl.
Start with about 2 Tbl. pesto and 1 tsp. balsamic vinegar. Add to the beans and toss to coat. Taste.
If you wish, add a little more pesto or vinegar. Let sit for 30 minutes and serve at room temperature
You can add other things if you wish like, minced red onion, celery, or diced sweet peppers – basically what you have on hand.
4. Everyone loves this simple chicken off the grill.
Grilled Pesto Chicken
I like to use boneless thighs for this. Boneless breasts work also, but put them between plastic wrap and pound them until they are about 3/4" thick.
Place 8 chicken thighs or 4 breasts in a large bowl.
Add: ¼ cup pesto, 2 Tbl olive oil, and 2 Tbl. bottled vinaigrette (or red wine vinegar and more olive oil)
Add salt and pepper if you wish.
Toss the chicken until well coated. Add more pesto if needed. Let sit at room temperature for 30 minutes.
Grill over a medium fire.
Serve with a big green salad, one of the side dishes above or some sliced garden tomatoes.
OR
Throw together something like I did last night from what I had available.
Pasta with pesto, topped with a green bean, white bean and orange pepper mixta. Add a little cheese and Voila!
Note about pine nuts:
Pine nuts are a basic ingredient of pesto. Tradionally they came from Italy and the US. 99% of the pine nuts sold here now are not from the US. They come from China, Korea, Russia and Vietnam. Unfortunately they sometimes mix varieties of pine nuts, some of which are inedible for human consumption. The result can give you what is called is called pine nut mouth or pine nut syndrome. It's hypothesized that the particular species of pine responsible for this is the Pinus armandii in China. A friend of ours was hit with this for several weeks. The malady causes everything you eat to taste metallic and bitter, and makes you not to want to eat or drink. It can last days or weeks.
I have stopped using pine nuts in all my cooking and try to avoid them when I eat out. For pesto, I use almonds. Walnuts are also good but a little more bitter. Pistachios are a nice alternative.
There are California, Nevada and New Mexican pine nuts available online, which are in the shell or shelled and expensive. Pine nuts are very time consuming to harvest and shell, which is why they cost a lot. Here are some links to buy some this fall (the 2015 crop is sold out): Have a piñon shelling party and taste the real thing.