Top 10 Wineries In The United States, 2020
Maria Gourtsilidou in CEOWORLD Magazine, September 2020
Connoisseur's Guide to California Wine - 2010 Vintage Zinfandel Tasting
The EASTON Zinfandel, Estate, Shenandoah Valley was featured and rescored 92 points and 2 Puffs!
Read all about the tasting HERE.
A small amount is available for purchase on our Library Wines page.
100 Points in The Wine Enthusiast
We are thrilled to receive a perfect score on our 2016 TERRE ROUGE Syrah, Ascent!
Read Jim Gordon's story in The Wine Enthusiast.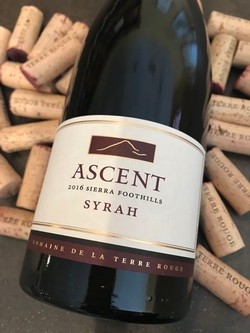 20 Small and Mighty California Winemakers Who Deserve Your Dollars This Year
Farm + Table Written by Bonnie Graves
15 Stellar 100-Point Wines That You Can Buy Right Now
Sara L. Schneider in the Robb Report, May 2020
Wine Enthusiast Viewpoint - Can Zin Get Its Groove Back?
Matt Kettmann in Wine Enthusiast, May 2020
Wine Pairings for Seven Popular Takeout Dishes
Lia Picard in Wine Enthusiast, April 2020


Rosy Harissa Chicken Paired with Terre Rouge L'Autre
Susan Spungen in Food & Wine Magazine, March 2020

Full Transparency - The New Grenache from California
Patrick Comiskey in Wine and Spirits Magazine, February 2019
2015 EASTON Zinfandel, Amador County
Our Zin is #45!!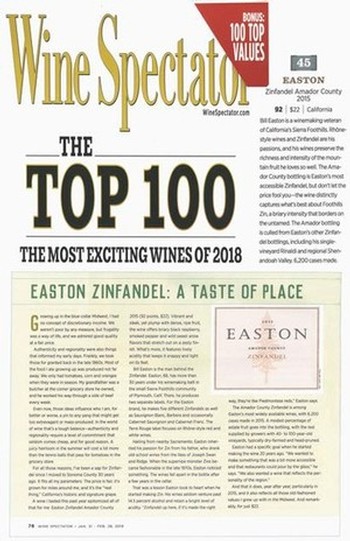 California Zinfandel, Happily Hedonistic
Stephen Brook, Alex Hunt MW, and Andrew Jefford, The World of Fine Wine, 2018
PODCAST
Listen to Levi Dalton's interview of winemaker Bill Easton on I'll Drink to That!
This in depth interview of Bill reveals what lurks in his mind and how he developed his personal winemaking style. Bill throws in a history lesson on California wines and how styles have evolved and returned to years past.