Full Transparency - The New Grenache from California
Patrick Comiskey in Wine and Spirits Magazine, February 2019
2015 EASTON Zinfandel, Amador County
Our Zin is #45!!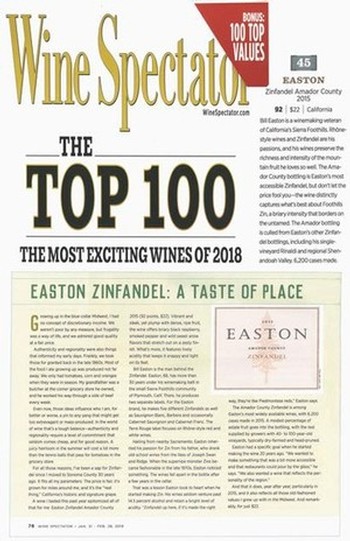 Press for the new 2017 EASTON Zinfandel, Lot 1852, Amador County
Sacramento Bee, May 9, 2018
Mike Dunne
As wine, the zinfandel grape is interpreted in all sorts of ways, from playful white zinfandel to somber port. Somewhere in-between is a style fresh, frisky, lean and quaffable, but it isn't easy to find, in large part because winemakers recognize that consumers generally expect their zinfandel to be muscular and blustery.
Yet, once in a while, a winemaker will make a stab at this more accessible, refreshing and versatile style of zinfandel. Call it claret, call it Beaujolais, or call it something else. At Easton Wines in Shenandoah Valley, winemaker Bill Easton calls his "Lot 1852," referring to the date that zinfandel arrived in California, according to wine historian Charles Sullivan.
The Easton Wines 2017 Amador County "Lot 1852" Zinfandel ($22) is a positive delight — light and bright in color, lean in profile and shy in tannin, but informed with surprising substance. It also carries more suggestions of berries than generally evoked by zinfandel — raspberries, cranberries and strawberries as well as cherries. Put a little chill on it and serve it with roast chicken.
Easton said he was inspired to make the wine after imagining how winemakers would have handled the grape soon after its introduction to California. "I assumed that people would want a quick-to-the-table drinkable wine and that equipment that was available to make the wine would have been primitive," Easton said via email.
Half the wine was fermented traditionally, half as whole clusters on their stems, producing a carbonic fermentation that gives the wine its youthful fragrance, fruitiness and vitality. It is zinfandel made for springtime drinking.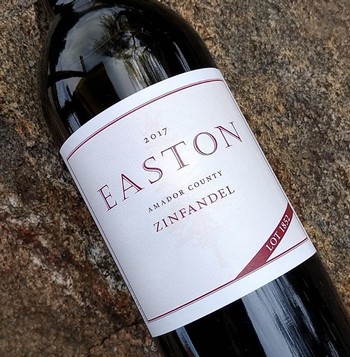 PODCAST
Listen to Levi Dalton's interview of winemaker Bill Easton on I'll Drink to That!
This in depth interview of Bill reveals what lurks in his mind and how he developed his personal winemaking style. Bill throws in a history lesson on California wines and how styles have evolved and returned to years past.
2016 TERRE ROUGE Vin Gris d'Amador, Sierra Foothills
The Wine Enthusiast, August/September Issue 92 PTS.
California Grapevine, May 2017
Light copper color: pleasant, cherry and raspberry fruit aroma with a light floral note; meduim body; fleshy, red fruit flavors with firm acidity and some suppleness in the mouthfeel; lingering aftertaste. Highly recommended. 14% alc. 360 cases made; a blend of 46% Grenache, 40% Mourvèdre, 7% Roussanne, and 7% Grenache Blanc; released April 2017. 89/100points.
2013 EASTON Zinfandel, Amador County
"91 points" - The Wine Enthusiast, "Editor's Choice", April 2015
"With opulent ripe fruit flavors and plenty of tannin and acidity to back them, this is a complete, balanced and appetizing wine. It smells like blackberry
with smoky, meaty accents, tastes rich and full of berries, and feels firm and tangy on the palate. It should
improve through 2017." - Jim Gordon

"90 points" - the Wine Spectator, June 30, 2015

~ ~ ~ ~ ~
In California gold country, wine takes center stage
MaryAnn Worobiec, The Wine Spectator
Issue: November 15, 2014
"Some of the first producers to demonstrate the potential of the area, like Domaine de la Terre Rouge, are still around and still showing the way."
"Bill Easton is one of the pioneers of Amador's modern winemaking era, founding his winery in 1984, and his wines still lead the pack in terms of quality."
~ ~ ~ ~ ~
2011 Terre Rouge Mourvèdre
Wine and Spirits Magazine,
Best Mourvèdre of the Year
94 pts.
" Bill Easton has worked with these head-pruned vines off and on since 1992, when they were planted at 2,200 feet on a south facing slope of decomposed granite loam. In the cool 2011 vintage, he picked the last of the Mourvèdre on November 16, as the lower rows were beginning to frost. That late harvest created a wine of captivating contradiction: as meaty as lamb stock, yet with a high-toned thread of acidity that refreshes the wine with bright red fruit tones while mineral Foothills tannins sharpen the wine's edges. It continues to develop with two days air, its aromas suggesting loam, pine and smoked meat, yet presenting its pungent complexity with surprising delicacy, the tannin vertical and fresh. This is a vigorous, singular expression of Foothills terroir that would be beautiful decanted and served with braised lamb shanks."
350 cases
$28/bottle ~ Purchase limited to 6 bottles per customer
~ ~ ~ ~ ~

2010 EASTON Zinfandel, Estate Bottled, Shenandoah Valley, CA
The Wine Enthusiast, September, 2013 ~ 93 pts.
We are on the cover!

2012 EASTON Zinfandel, Amador County
Rémy Charest - Palate Press
Un très beau zinfandel avec une belle tenue en bouche. Les prunes bien mûres et le
tabac sont au rendez-vous, avec même quelques touches de fraise des bois au nez. En
bouche, la structure est agréable, avec une bonne dose de fraîcheur et une finale assez
longue. Tout le caractère du cépage, sans lourdeur. (Dégusté en août 2014)
A beautiful Zinfandel with a nice mouthfeel. The ripe plums
and tobacco are waiting for you, even with a touch of
strawberry in the nose. On the palate, the structure is nice,
with a good dose of freshness and a long finish. This wine
has all the character of the grape without any heaviness.
(Tasted in August 2014)

Bill Zacharkiw - Montreal Gazette
What Zin should be - great complexity of ripe fruit - here you get black plum and blackberry,
with a hint of spice and tobacco on the finish. Gritty tannins hold the monolith together
and give it some pop! Manages to actually be refreshing. Well done, especially
considering the price. (Tasted August 2014).

Recent Reviews in The Wine Enthusiast
2010 TERRE ROUGE Syrah, Ascent – 93 pts.
2010 EASTON Zinfandel, Estate Bottled, Shenandoah Valley, CA – 93 pts.
2010 TERRE ROUGE Syrah, Sentinel Oak Vineyard – 92 pts.
2010 EASTON Zinfandel, Rinaldi Vineyard, Fiddletown – 92 pts.
2011 TERRE ROUGE Grenache Blanc, Sierra Foothills – 91 pts.
2011 TERRE ROUGE Viognier, Fiddletown – 91 pts.